I'm sitting in the United Club, ensconced in a comfy chair with two outlets, one for each electronic device that accompanies me on my business trips. I'm off to DC for a board meeting, just an overnighter, so I'm traveling light.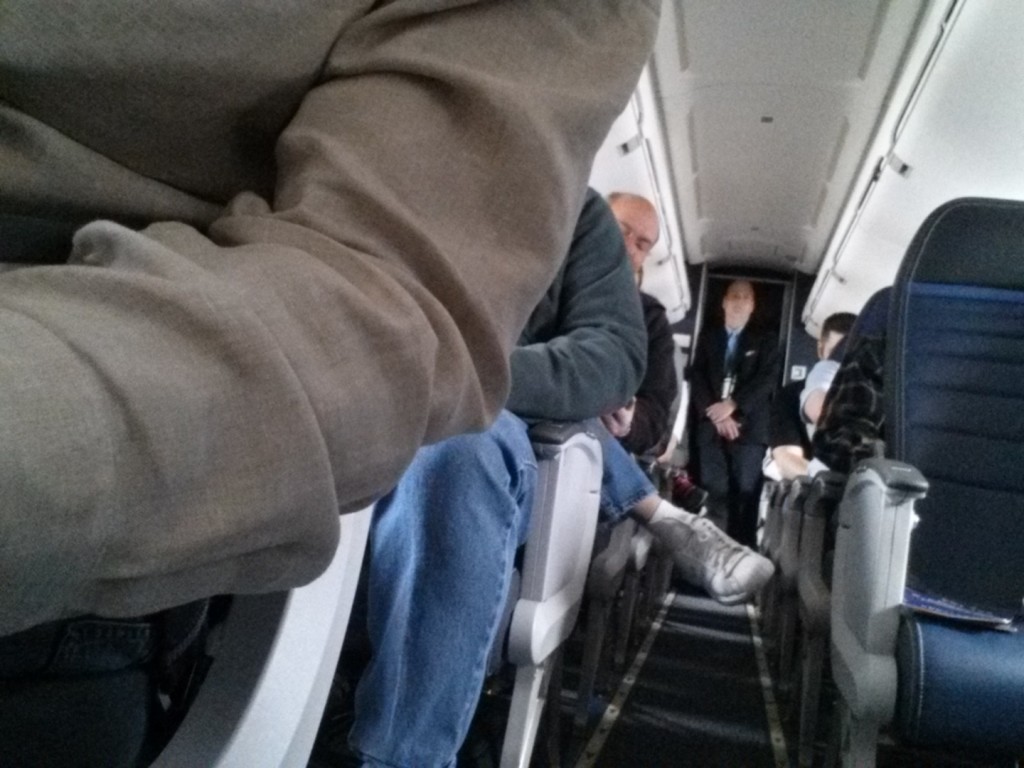 I don't fly enough to hate it, but I fly enough that I don't like it. Still, as I walk through the Cathedral of Travel that is Chicago O'Hare, I do my best to wear a Buddhist half-smile and pass it along to anyone not staring at their smartphones or talking to themselves. I walk the length of two terminals, and I get one smile from a Hispanic woman who stops me to ask the time in a thick Spanish accent. I look at my watch and without thinking about it I say ocho y media. "I mean, eight thir…" but she says gracias, with a warm half-smile.
It's easy t0 wear a full-smile as I descend the escalator to the United Club, the bastion of business travelers, a quiet little sanctuary.  I wear less of a smile when I learn my membership card expired last November.  I hope for some leniency from the woman at the counter, but her smile is a little icy as she slides the card back to me.  "Or," she says, "You can renew your membership…"  So I renew.  The smile thaws just a bit but retains a respectful chill.  Take a lesson from my Hispanic friend, I say to myself.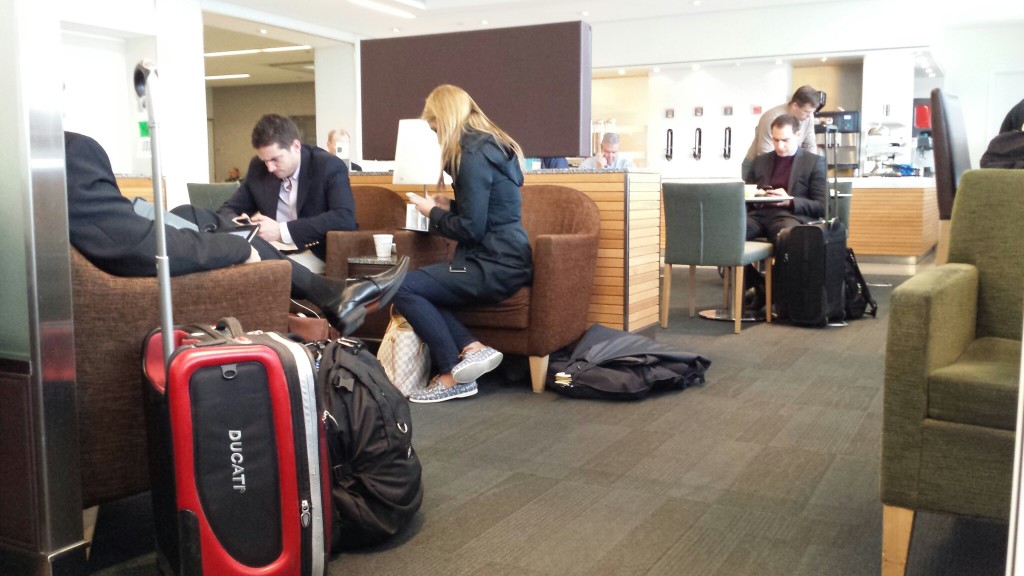 I actually enjoyed the 45 minute flight to ORD.  ORD may seem a strange name for the airport for a major American city.  Why not CHI?  I mean, Los Angeles is LOS.  Atlanta ATL.  ORD is ORD because before it was one of the busiest airports in the world, it was an orchard.
As I waddle down the aisle of my CRJ700, computer bag in one hand and my socks and underwear in the other, a beautiful African-American woman struggles to put 105% of carry-on into 100% of overhead bin.  She's dressed to the tens, not the nines, and despite her considerable heels she's just short enough to make stowing luggage a ponderous task.  Behind her stands a stereotype in Dockers, a blue blazer and light blue shirt, no tie, loafers. He looks noticeably irritated, shifting his weight back and forth as if that's going to speed the process.  I wonder why he doesn't offer to help.  I mean, this guy's six-foot plus and a gentle nudge from below would considerably speed up the process.  I really want to reach around him to help her,  accidentally clocking him in the jaw as I do so, but she receives help from a fellow passenger behind her.  I pray that he's not sitting next to me.  My prayer is answered.
On any plane you find a nice cross section of society.  Sure, it's dominated by business folks, but you still see the Grammas on their way to see grandkids, quiet young women on their way back from visiting friends, and jolly golfers in golf sweaters and golf pants talking in golf voices, heading for warmer climes down south.  But my favorites are the families on their way someplace for vacation, especially of there are two kids about six and four.  Clearly they're going to Disney World.
Dad is wearing a Badger's cap and Cabela's fleece.  He looks to be a dairy farmer, but farmer or no he's a big dude in his thirties with a scruffy goatee, and my guess is he knows how to work with his hands.  He sits next to his six year-old, an energetic boy with a bowl haircut who appears to have spent some time in the Bouncy Castle at the State Fair last summer and just kept on going.  If he had been on an airplane before, you wouldn't know it.  He is enthused by everything, including Sky Mall with its array of expensive, absolute crap.  Solar-powered garden gnomes?  Gimme a break.  "Daddy, look at this!"  Daddy offers a conciliatory hmmph. In his mind he's thinking I wouldn't buy that shit with someone else's money, let alone my own.  I'm leaning more and more toward farmer.
His son peppers him with questions about everything.  He doesn't know a lot and says so when he doesn't.  Still, his son is awed at his omniscience.  "What's that one, Daddy?"  "Oh, that's a generator that helps start the engines."  "What's that one?"  "That one there holds fuel."  He says fuel, not gas, so I move my mental needle a notch toward farmer or maybe trucker.  A flight departs across the grass strip that separates the taxiway from the runway. "Where's that plane going?"  "I dunno know."
He talks with a Wisconsin accent, identified as much by its volume as its distinctive, drawn-out vowels and the pronunciation of th as somewhere between th and d.  You get up to da UP (Upper Peninsula of Michigan) and the th disappears entirely.  Oh, yah, dat dere's a nice walleye, you betcha.  I don't necessarily have a Wisconsin accent after 30 years in the Midwest, but certain speech patterns have inserted themselves into my lexicon.  I caught myself a few days ago saying to my wife, "You want some help with that er no?"  Er no is pretty damn Wisconsin. I'm totally okay with that, y'know.
His wife appear to be of Norweigan stock, thick blond hair that's not from a bottle, pulled back in a pony tail as thick as a broomstick.  She has a pretty face, wearing just a little mascara so her eyelashes will show. She's sturdily built, the kind of woman who milks 100 cows before 7:00 and can weed a big garden. She'd be considered overweight by some standards, but I think she's lovely.  If Kate Upton is the Ferrari, this woman is a Ford F-250 with a Cummins diesel and dualies in the back. Not as glamorous, but a hell of a lot more useful in all but a few circumstances.
She's patient and tender with her four year-old, who's a little more squirmy and less self-contained than her brother.  She says "Say, it's 80 degrees in Florida and twenty degrees in Canada. Where do you want to go, sweetie?"
"Canada."
I love this little girl.
—
The guy sitting next to me is on his way to a conference and sales meeting.  He works for a large feed and pet food company, one who's product I have used for twenty years.  He smiles and says, "Well, I do cat food. The wet food in the three ounce cans."  The ones that cost a buck an ounce.  That's more than a medium-grade prosciutto.  Yikes.  I'd never done the math before.
My wife knows that censoring my thoughts as they travel from Broca's area to my mouth is not my strong suit.  I lean over and say "Well, thank god for those women who own six cats."  He smiles wanly and says, "Amen to that."  Even though he agrees, I fear I have promulgated a stereotype and I wish I hadn't said that, not so much for him as for me. Chalk one up for Team Insensitive Jerk.
In two hours I'll be on other flight to DCA, Ronald Reagan International Airport, from which I take the shuttle to the metro yellow line to the red line to my hotel, eight blocks from the stop. Tonight I have dinner with some really nice, smart people from the Outdoor Industry Association, of which I am a member of the board of directors.  Part of me looks forward to this.  Part of me wishes I could share a burger with the family going to Florida just to hear them talk and watch them parent.
Respectfully submitted,
Canoelover