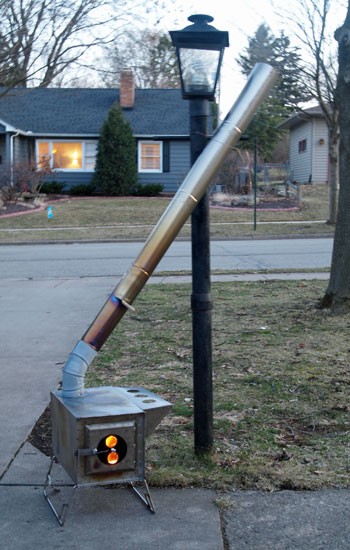 I just purchased a new portable titanium stove from Four Dog Stoves, owned by Don Kevilus, a self-taught genius who understands How Things Work. He builds well designed and thought out portable stoves for use in heating up small canvas tents for wilderness camping from October to April (at least in the upper Midwest).  These tents provide a level of comfort unknown in their nylon-skinned brethren.
Adding heat to the equation males life so much better in the winter.  You can consume and thus carry fewer calories since your body will throttle back your metabolism when it doesn't need the heat. It can also drive moisture out of clothing and sleeping bags.  During a winter trip a sleeping bag can absorb a lot of moisture, and an 80 degree ridgeline can drive that moisture out.  And of course, in survival situations it's a critical piece of gear.
But before you use your stove, you gotta burn it in.  This means a nice hot fire for a few hours or more to burn off any chemicals that might have been used in the manufacturing process.  Titanium has no coating per se, but there is a galvanized elbow that has to burn off its toxic coating. Eew.
At any rate, you start cooking with a stove in your tent before a good solid burn-in and you'll experience a toxic sweat lodge.
I had a few hunks of hickory that were about 4 inches long, so I split them with my mind power and set them aside.  The fire started quickly, and pretty soon smoke poured from the chimney and the tinking of metal began as the stovepipe turned into a rainbow of colors.
The stovepipe is ingenious. Rather than having seamed pipe that has to be snapped together, Don created a conical pipe that nests so the pipe starts little and gets bigger as it goes.  It looks sorta Dr. Seussian but it works great.  Everything fits inside the stove's firebox.  Super light, super compact.
Because titanium doesn't rust per se and has a melting point of 3500 degrees F., there's no burn-out on the bottom of the stove.  Don builds two layers into the bottom of his stoves and that keeps things stable where fires are the hottest.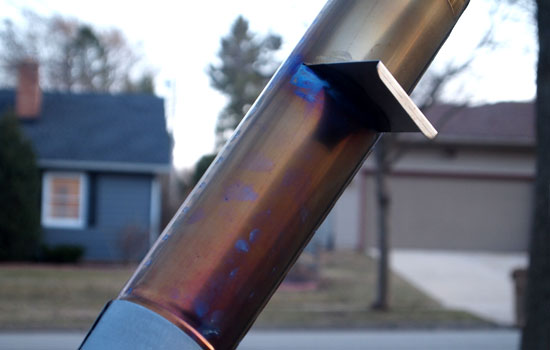 Anyway, lighting a small wood stove with the stovepipe wired to your coach light is likely to draw attention, especially when it's first going and bellowing white smoke. Then again, the neighbors are used to it.  I think they secretly enjoy the randomness that shows us in our less-than-random street.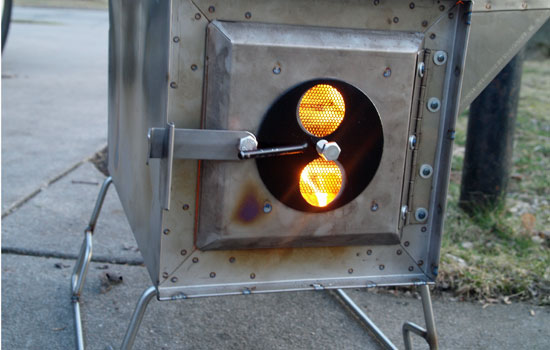 This is a well-made piece of gear.  Don obviously has a skill for spot-welding.  This thing could be dropped down the side of a cliff, retrieved and put back to use without a whimper.  The door and damper is as airtight as some $1500 stoves.  In fact, it's better in some ways.  The screen behind the butterfly door is not something I've seen before on traditional wood stoves.  It's that good.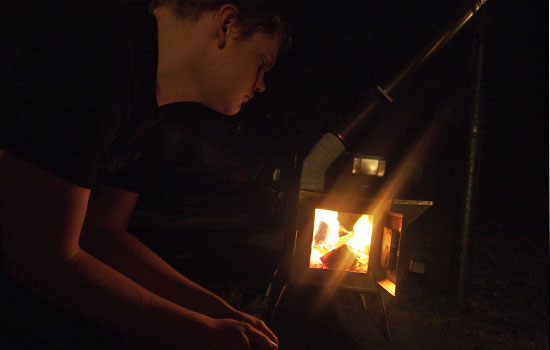 Gear testing attracts Ian too.  As the wood burned down into a nice bead of coals, Ian came outside to check in and to chill by his old man. For that reason alone, I love testing new gear.
Respectfully submitted,
Canoelover